Everything you want to know about Montreal : how to get here, important phone numbers, exchange rates, etc.


• Arts and entertainment
• Bars and clubs
• Buildings, monuments, etc
• Special events
• Hotels, motels, etc
• Shopping
• Montreal by theme
• Museums
• Restaurants
• Walking tours


From Old Montreal to the Plateau and Chinatown, all the information in this guide divided by neighbourhood with maps.

Other more Montreal.com services



Stewart Museum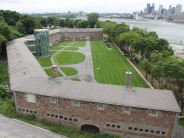 Description
Neighbourhood : Ste-Helene and Notre-Dame Islands
Type : History

CLOSED PERMANENTLY
It's an history museum about Montreal's colonial and military history and includes a large collection of firearms. They have also live re-creation of a 18th century french division with a demonstration of firearm use. Special exhibitions can been seen all year round.
Opening hours :

Wednesday to Sunday: 11 a.m. to 5 p.m.
Closed Monday and Tuesday

Ticket price :

Adults: 10,00$
Students and seniors: 8,00$
Families (4): 20,00$
Children younger than 6 years old: free
Group prices are offered.
Free for members of the Museum.

Last updated : March 29 2011.
Contact and location
Address : 20, chemin du Tour-de-l'Isle Montreal, QC, H3C 0K7
Metro station: Jean-Drapeau
Tel. : 514-861-6701
Email : info@stewart-museum.org
Website : www.stewart-museum.org/en/
hide the map
activate street view
Your opinions
Review written by RG
Rating : 5.0/5
In one line : WOW le plus beau Musée de Montréal
Review : WOW Venez redécouvrir ce trésor caché du Parc Jean-Drapeau. Le Musée Stewart complètement rénové est situé dans le dépôt fortifié britannique de l'Île Sainte-Hélène. Une nouvelle exposition intitulé "Histoires et Mémoires" agrémente les lieux. Un nouvel espace muséale ainsi qu'un espace extérieur tout vert. Le Musée Stewart a réouvert et vous attend nombreux. Je vous le recommande fortement et allez-y seul ou en famille (vos enfants vont appréciés) Bonne visite
Date of review : Sep 12 2011
Review written by bb
Rating : 5.0/5
In one line : Quelle découverte, une musée à voir
Review : Ce Musée est un trésor caché de l'Île et il est à découvrir. Une renouveau se fait sentir dès que nous entrons sur le site. Une nouvelle exposition qui nous apprend beaucoup sur notre histoire et nous fait vibrer avec sa mémoire. Un site tout verdit qui est magnifique et l'architecture du bâtiment est vraiment à couper le souffle. Tout le monde devrait aller visiter ce Musée. Les gens que j'ai pu rencontrer sont des passionnés de l'histoire et du patrimoine. Ils font vibrer les murs de cet enceinte d'une passion contagieuse. Merci! à tous le personnel du Musée Stewart pour cette belle découverte et pour la belle aventure dans le passé. Allez découvrir ce Musée situé dans le dépôt fortifié britannique de l'Île Sainte-Hélène. WOW!!!!!!!!!!!
Date of review : Jul 7 2011
add your opinion
External reviews
More to come...
< back...