Everything you want to know about Montreal : how to get here, important phone numbers, exchange rates, etc.


• Arts and entertainment
• Bars and clubs
• Buildings, monuments, etc
• Special events
• Hotels, motels, etc
• Shopping
• Montreal by theme
• Museums
• Restaurants
• Walking tours


From Old Montreal to the Plateau and Chinatown, all the information in this guide divided by neighbourhood with maps.

Other more Montreal.com services



Windsor train station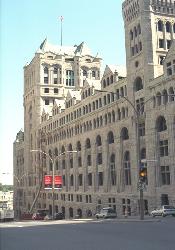 Description
Neighbourhood : Downtown
Type : Interesting building
Year of construction : 1887-1889
Style : Castle-style
Best : Yes

Beautiful castle-like building, it is well known for its "salle des pas perdus" (hall of lost steps) with its bronze statue dedicated to the workers who built the railway. It was used as a train station and headquarter for the Canadian Pacific Railway and was expanded many times (1906, 1912, 1953). It replaced the Dalhousie train station in old Montreal.
Contact and location
Address : de la Gauchetière, corner of Peel
Metro station: Square-Victoria (Belmont street exit) or Bonaventure station
Tel. :
Email :
Website :

hide the map
activate street view
Your opinions
Notice: There are no reviews for this establishment for the moment

add your opinion
External reviews
More to come...
< back...